Tours in Manuel Antonio National Park
About Manuel Antonio Park
Manuel Antonio National Park is considered as one of the best places for wildlife observation in all of Costa Rica, due to the high concentration of species in together in one place. Manuel Antonio National Park was created in 1972 with the main purpose of conserving its incredible biodiversity. Manuel Antonio Park is the smallest park in Costa Rica. However, it has an important combination of habitats such as lakes, rivers, mangroves, primary forest, and secondary forest, all these different ecosystems allow the wildlife to be well developed at a large scale in a small area.
The biodiversity of Manuel Antonio Park is highly varied. In Manuel Antonio Park we have approximately 110 species of mammals and 190 birds.
Among the most outstanding species that we can mention are the white-faced monkey, three-toed sloth, two-toed sloth, howler monkey, and the squirrel monkey, this last is an endemic subspecies of Manuel Antonio Park.
You can also find many different birds in the Manuel Antonio Park, such as toucans, hawks, tanagers, herons, kingfishers, sea birds, among others.
The reptile's population in Manuel Antonio Park is also very varied, it is possible to observe different species of lizards and crocodiles inside the mangrove forest, as different species of snakes. There is also a wide variety of insects and crustaceans that are easy to observe. These are just some of the characteristics of its biodiversity that make visiting the Manuel Antonio National Park an unforgettable experience.
Manuel Antonio National Park Tour Options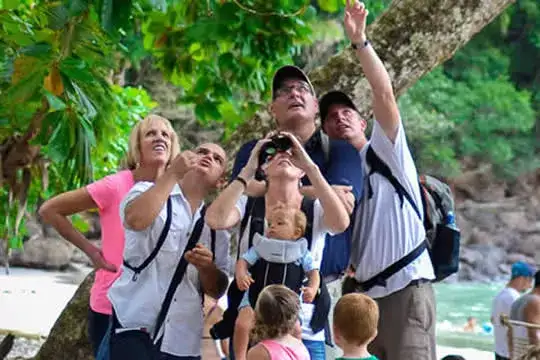 Group Tour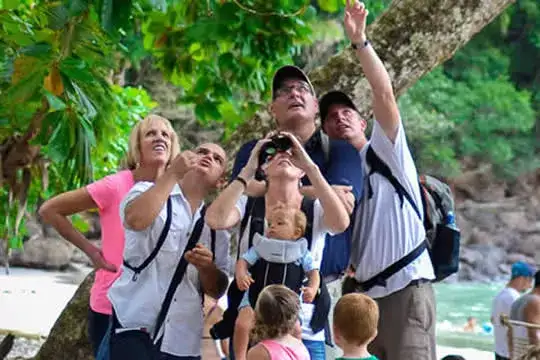 Private Tour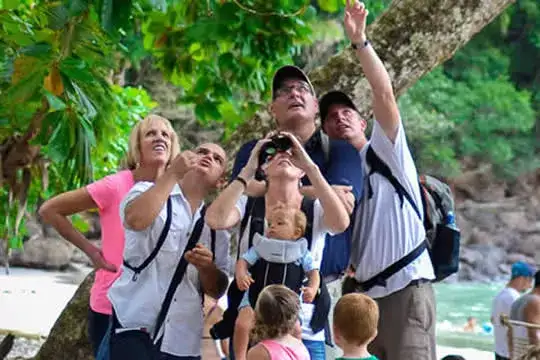 Without transportation
Reviews
★★★★★
Must for visiting the Manuel Antonio Park if you want to see animals
Mario was a great your guide. Knowledgeable and patient. There's no way we would have seen most of the animals we saw today (sloths, toucan, king fisher, white faced monkeys, hummingbirds, butterflies, crabs, black and green iguanas).
★★★★★
Best chance to see wildlife
Great experience walking through the park with our Guide Royvin. We were able to see two sloths, two species of monkeys, toucans, and many other creatures we had not seen yet at other CR parks. Thankful our guide went slow and took the time to find creatures for us to see and learn about. Robin was also good at taking photos for us in his spotting scope. Things to know before you go: Don't bring food (they check the bags before entering the park for food). Do bring a swimsuit if you are wanting to swim for a few while at the beach portion of the tour.
★★★★★
Amazing tour with Roy
We went on a guided morning tour with Royvin Arce as a guide. We were 6 people on the tour and thanks to Roy we managed to see so many cool animals. Sloths, a cayman, squirrel monkeys, snakes and much more. We would have never been able to spot these animals oursevles but thanks to Roy we managed to both see them and get some awesome photos taken. We had about a million questions and Roy patiently answered all of them with all of his knowledge. Amazing tour experience and we highly recommend both this company and Roy!
★★★★★
Tour
Thx to andrey for such a great tour. He take he's time to explain everything. And thanks to the driver cristian he is a good person.
★★★★★
Great Experience!!
We originally were going to go to the park alone, but we're so glad we booked this tour instead. We had the pleasure of having Mario as our guide, and he made the experience so much more special. He was very knowledgeable about al the wildlife in the park, and took the time to explain everything we saw. We learned so much from insects to animals to trees. He also was kind enough to take pictures of everything we saw for us on our phones allowing us to keep the memories forever! We highly recommend booking this your and learning everything about there is at the park. You won't regret it!
★★★★★
Manuel Antonio Day Walk
Our tour guide, Mario, seemed to genuinely enjoy spotting the local flora and fauna hidden throughout Manuel Antonio and pointing out facts about each and every one of them. The man has eagle eyes and using his spotting lens he was able to show each animal in great detail. Sometimes, even after directing us where he was looking, I still was unable to find what we could clearly see in the lens. As such, I would recommend hiring a guide such as this to get the most out of your tour of the park. We got lucky and saw 4 different troops of white faced monkey and even got to see one just out of arms reach. Highly would recommend this tour group as the guides seem passionate about their work while remaining professional and friendly.
★★★★★
Definitely go with a tour guide!
Our tour guide Andre was so knowledgeable and clearly was passionate about his job and the local wildlife, made our experience very enjoyable!
★★★★★
Excellent tours!
Mario was excellent! Very knowledgeable and made the tour entertaining! He was fully committed to trying to help us find all kinds of animals! We saw some poisonous frogs, 2 boas, a baby croc and many other things! We also did the Manuel Antonio day tour with Mario the next morning and that was amazing as well! Saw a bunch of white face monkeys, a sloth with her baby too! Highly recommend!
★★★★★
Amazing Manuel Antonio Park tour
Our guide Royvin Arce was amazing and knowledgeable about all the local flora and fauna, and was very friendly. His ability to get pictures of, and find tiny camouflaged animals was amazing, and he was super courteous and friendly. If you can get him as your guide, do it. He also provided us with extra pictures that he had taken on his own time, but the attached pictures are what he took with our phones, amazingly.
★★★★★
Manuel Antonio National Park
A very interesting experience.Mario,our guide had a deep knowledge of fauna and flora.Totally recommended.
★★★★★
Amazing
Bea was fantastic. What a thrill and treat to see so many animals and have an expert teach us about them. What an incredible park and what a perfect day for our family.
★★★★★
Sloths and Monkeys in Manuel Antonio Park
We did the group tour with Mario and he was fantastic. He found so many animals that we never would have seen on our own and was able to focus his telescope on them so we could see them up close. We saw several different types monkeys, both two-toed and three-toed sloths, black iguanas, toucans, interesting insects, crabs, etc. The guides worked together to find -the animals which was cool. You could tell Mario was one of the more experienced and respected guides giving tours. He also took great pictures and provided a free upload link.
★★★★★
What a Great time!
My favorite part was how knowledgeable Juan castro was of all the animals and the forest. I learned so much. He really made sure everyone got a view of all the animals through his telescope. He was awesome.
★★★★★
Mario was an awesome tour guide, would absolutely recommend this tour!! Highlight of trip!
I had an exceptional experience on this tour. my sister and I drove ~2 hours each way for the Manual Antonio for the nature walk and it was well worth it. Our tour guide Mario was awesome— he was very knowledgeable and engaging, and he had an eye for spotting things you'd never see in the park without a guide. We saw and learned about sloths, monkeys, birds, insects, lizards, butterflies, and more. Without a telescope, you wouldn't get anywhere near the full experience offered by Manual Antonio. I highly recommend this tour and Mario!
★★★★★
Great Tour
Daughter and I had a great tour with Mario. He was so adept at spotting animals and insects, that we would never have seen without Mario's expertise. So knowledgeable about the local eco system and a pleasure to be around. Would definitely recommend to anyone in the Manuel Antonio area.
★★★★★
Wonderful Manuel Antonio Park Tour
This was a great tour experience. Mario was a very knowledgeable tour guide. He explained the animals and insects we saw in great detail and it was a very educational experience. The park is beautiful and the transportation service to and from the park was great. A sandwich with homemade guava jelly at the end of the tour was also great!
★★★★★
Two thumbs up!
Mario, our guide, had an eagle eye and was able to spot everything from monkeys and tons of sloths down to the tiniest rainbow colored insects and knew everything imaginable about every one of them. He's like a walking encyclopedia with a bionic eye. Totally amazing. I highly recommend. And the bonus is Mario is an expert photographer who's submitted photos to National Geographic (and had one printed in the magazine) and takes photos of all the animals he showed us and sends us a link with everything. Even my teenaged daughters loved this tour.
★★★★★
Fun Tour Guide makes your trip well worthy!
We are so happy that Edgar took us to our tour today. We got picked up 7:05am, before we headed out to the park Edgar was👂hearing something. He set up his binocular and showed us a Fruit Loop Bird(Toucan Sam) right outside of our hotel‼️ Then we took off but less than a min he 👀spotted something and tells the driver to pull over😆 OMG 😱 A Sloth, a Sloth, Sloth😍😍 He was hanging over on the tree above the road we have been driving everyday. We kept asking Edgar how did you know❓How did you see this❓We would never had known what to look for if we went into the jungle ourselves. He just smiled and said that's why I'm taking you to the tour😆 We were so excited about the whole 4hrs of today's tour😍 If you have chance to go Costa Rica, please contact Jade Tour and ask for Edgar🤗Edgar was SO friendly✔️ knowledgeable ✔️ (had answers to all our questions and he explains to us in most amusing way😂 ) But most of all he made us LOL🤣 all day✔️
★★★★★
I booked this same trips over Thanksgiving weekend in 2017 and it was great. So, when I brought my grandkids to Costa Rica, I knew who to book with. Edgar was our guide. Not only did he know his flora/fauna but he was entertaining as well. He asked what we wanted to see especially . . . sloths, monkeys, toucans, snake, as well as the usual things in the park. We saw everything and more. We really enjoyed our tour with Edgar and appreciate his taking photos through his camera for us. We have some amazing pictures to take home.
★★★★★
Knowledgeable guide with a sharp eye
Experienced guide who spotted so many species we would have missed on our own. Great day. Small group. Engaging for me and my 13 yo son. Would recommend.
★★★★★
Great Experience!
Mario made the trip very interesting with all of the information on the area as well as the forest. He was a wonderful tour guide that made the trip fun!
★★★★★
Mauricio is the one!
Mauricio was super knowledgeable and a great guide. His bird songs were amazing
★★★★★
Edgar was fantastic!
He "made" the tour. Though it was incredible to just walk through the National Park, his expertise allowed us to see a ton of animals. He was fun, hilarious, and knowledgable. Such a wonderful day. Can't wait to be back!
★★★★★
Amazing!
Amazing experience!!! Edgar was a fantastic guide, he was so helpful and was able to spot so many animals. We definitely lucked out with him. Take a swimsuit, the beach inside the park is beautiful.
★★★★★
Incredible experiencia with Edward
This was an unbelievable experience that was made even more special because of our tour guide Edward. He was so knowledgeable about all different types of animals around the area. Without his expertise we would not have seen nearly the same amount of animals that we did! I highly recommend this experience and highly recommend Edward!
★★★★★
A joyful, animal-packed adventure!
We were so lucky to have Andrew as our guide for what was the absolute highlight of our travels.In 3 hours we saw bats, white faced capuchin monkeys, howler monkeys, 2- and 3-toed sloths, frogs, a tortoise, hummingbirds, iguanas, crabs and more. We even saw the famous Mot-mot bird, and enjoyed the rare sight of a juvenile (venomous) terciopelo snake. Andrew was extremely knowledgeable and generous in answering our questions, and he explained everything in both Spanish and English (we were a mixed group). Super friendly and clearly highly trained, it was a joy to be led through the park by Andrew. We were able to see all the animals up close through his telescopic lens, and he kindly took photos for us on our phones so we had some amazing images to take home. It was well worth the money and I can't recommend this tour highly enough. An absolute joy that will leave me buzzing for days!
★★★★★
Family va y 2022
Eduardo our tour guide was so knowledgeable and such a gentle personality. He answered all questions and made our tour extra special. Pura vida 🇨🇷🇨🇷❤️ Thank you from your Canadian family
★★★★★
Great tour with Royvin Arce
We took the tour with Royvin Arce and it was great! We saw loads of wild animals, from sloths to snakes, and finished our tour at Manuel António Beach, one of the most beautiful in the world. Strongly recomend!!
★★★★★
Amazing
We had an absolutely amazing time with Edward from Jade tours. Edward was extremely skilled at finding all the cool animals and plants the park had to offer. He also shared his knowledge about the wildlife in the park which we found fascinating. This tour was worth every penny - the only way to visit the park imo and Edward truly went the extra mile!
★★★★★
Amazing
We had an absolutely amazing time with Edward from Jade tours. Edward was extremely skilled at finding all the cool animals and plants the park had to offer. He also shared his knowledge about the wildlife in the park which we found fascinating. This tour was worth every penny - the only way to visit the park imo and Edward truly went the extra mile!
★★★★★
Best Tour Ever!!!!
We had the most amazing experience today at Manuel Antonio Park. Geovana was our guide and she was outstanding. Perhaps the best guide we have ever had and we have been on a lot of tours. First off she had this positive personality and her mission was to see to it that her clients had the absolute best experience. She was extremely knowledgeable and share that with us. Better still she could find animals in the park that we could never find on our own. She was never rushed and would take our phones and capture beautiful images using the magnification of her spotting scope. The highlight for us was when Geovana located a family of white faced monkeys who were very close to the trail on a section other guides did not take their clients. She went above and beyond to make our experience of the park truly exceptional.
★★★★★
Amazing experience
Roy is an excellent tour guide. He was very knowledgeable and has an eagle eye. He pointed out many animals that we would have missed if we would have went without a tour guide. We highly recommend this tour to anybody wanting to see how beautiful Costa Rica and its inhabitants are.
★★★★★
Edgard Helped Us Make Valuable Memories
Edgard was a FANTASTIC guide! We were not in the park for five minutes and he heard Toucans near by. He quickly set up his scope and within seconds we were watching these amazing birds in the treetops. Throughout the tour he helped us get some great photos of the amazing wildlife, from sloths to howler monkeys. He had the four of us, including our adult sons, engrossed in a battle between a snake and a frog. He not only educated us about the flora and fauna in the park from the small spiders and crabs to the larger sloths and caiman, but he took the time to get to know us as people. We fell into a comfortable, friendly rhythm with him, and he with us. We were only there for a couple of hours, but we all felt that with Edgard as our guide, we could have stayed there for many more. Since that tour he has shared many of his outstanding (surely they would be award winning) photos with us on a regular basis, so we can still keep in touch with the country that we can't wait to visit again.
★★★★★
I would do it again
It was amazing how Royvin Arce, our Guide even discovered the tiny very interesting things beside the obvious ones. For example a rainbow colored grasshopper. There where so many animals and flowers i never would have noticed without him. And he has a huge knowless of the nature! It was a great experience!
★★★★★
Excellent experience
We had such a good time, thanks in large part to our guide, Edward. He was thoroughly knowledgeable and responsive to our questions. In addition, he was just a really funny and nice guy. The tour was excellent. We saw sloths, monkeys, Jesus christ lizards...and so much more. Also, we took a half hour break at the beach (which is beautiful), so wear your swimsuit if you wanna jump in!
★★★★★
Best tour from my short time in Costa Rica
We start with a group of 4, that's perfect. Our Tour guide was Royvin Acre. He was a amazing guide, take time to see everything, explain the history of Manuel Antonio National Park and showed us a lot of plants and explained that. Great, and we saw so much frogs, a snake, spiders, monkeys, birds, slots and ……. It was a unbelievable morning for me and end up with relaxing on the amazing beach. Royvin, I definitly would do the Tour again with you. If I will go to a second trip to Costa Rica i would do the Night Tour. Thanks again. I definitly can recommend the guided tour. Without a guid you never would see so much animals.
★★★★★
Great experiance
Ask for George. Very funny and know everything about the wildlife in the park. Perfect english and bionic eye :).He can spot a fly on a leaf 20 meters ahed :). Thank you George!!!!
★★★★★
Ask for Edward!
It was a really amazing trip!! I really enjoyed the trip to Manuel Antonio Park, seeing and discovering so many different types of animals - scorpions, crabs, bats, monkeys, alligators and more! I want to praise the tour guide I had - Edward, who did an excellent job. He really has a lot of knowledge about animals and made the trip very pleasant and interesting, and also helped a lot with the photos, so thank you very much.
★★★★★
We had a really great experience on this guided tour with George SZ.
He was amazing at finding sloths high up in the treetops that we never would have seen had it not been for his 'eagle eyes'. We saw lots of sloths, bats, monkeys, iguanas, the Jesus Christ Lizard, small caiman, milk tree frog, HUGH grasshopper, turtles, ibis. George was very knowledgeable and spoke great English. He was passionate about nature and has many years of guiding experience. My husband had the pleasure of doing a night tour with him the previous night and we were pleasantly surprised that we got George again the next day for the Manuel Antonio tour. Make sure you ask for George, you won't be disappointed!
★★★★★
5 stars!
We had a great nature walk with our guides Edgar & Javier! Edgar had a wealth of knowledge about all the animals & plants and was able to spot animals we never would have seen by ourselves. We saw sloths, monkeys, bats, and more. Definitely recommend this tour!
★★★★★
So good I've now booked with them twice!
I came last August with my daughter, and Edgar showed us around the park. It was such an incredible experience that I came back to CR with my fiancé this year. Fabio took us around this time and was also outstanding. My big advice is not to have any particular goal in mind about what you want to see - don't worry, you'll be amazed even if you don't see exactly what you think you might. For example, last year we saw loads of white face monkeys and none this year - but we had better sloth sightings and more birds. I'll book with Jade Tours every time I come here! You should too.
★★★★★
Guided Tour or Manuel Antonio National Park with Edgar
Edgar has such a wonderful knowledge of all the beautiful surroundings at Manuel Antonio National Park. He was very informative about so many plants and all the animals which were in abundance. He has a keen eye and was pointing out so many things that we would have missed had we gone on our own. He was also, very friendly, humorous and had great interaction with all ages in the group. I will definitely be looking out for Edgar next time I'm down there.
★★★★★
The best of our trip in Costa Rica
We had this trip this morning and it was such an amazing experience! George is the best, please if you book this tour we highly recommend you to request to stay in George group. He loves the nature, he is enthusiastic and he spot all nature life even if you don't see the animals. With telescope he shows you how wonderful nature is and explain you in detail all the important things that you need to know. A big thanks is not enough, it was an awesome tour! Thanks Jade Tours and a special thanks to George, you are the best!
★★★★★
Super Manuel Antonio
Great tour, great guide, super experience for us as a family, Edgar was brilliant, v knowledgeable and his passion for the park and animals really shone through the whole time - highly recommend
★★★★★
An amazing day
We were hesitant to use a guide. Wanted to explore on our own. I am so glad we decided to hire a guide. Wilbur was amazing and very knowledgeable. He answered all our questions. We have some amazing pictures of monkeys, sloths, lizards, toucans. He was able to locate all the animals and use his scope so we could see them close up. An amazing day.
★★★★★
Adventure at Night
Great Tour with our Guide Edgar. We saw a lot of animals. Our Highlights were the terciopela snake and the glas frogs. We can definitely recommend the Tour and our Guide 😊.
★★★★★
Outstanding visit and guide (Edgar)
We had a wonderful time! Edgar is an incredible guide! People oriented, very knowledgeable about the animals, the insects and the vegetation. He speaks English, French and Spanish. We concluded that Edgar made our journey in the park. We wouldn't have seen anything without him.
★★★★★
Amazing day - if you wanna see animals, that's the way to do it
Our tour guide was George and he was an excellent guide. Very knowledgable and he managed to find so many animals. We saw sloths, all types of monkeys, lizards, poisonous mushrooms, frog eggs, iguanas etc. The tour was well organized, everyone was on time, the group was not too big. There was also enough time to relax on the beach a little and who wanted could stay in the park.